We run classes for children from 3 years old and upwards.  We cover several different levels, from Duckling badges through Waterskills badges and Rookie lifeguard badges
Half hourly, term time only,  Monday & Friday after school from 4pm.  Saturday Morning from 8.30am.

Teachers in water with trained assistants up to Waterskills 3.

Great ratios of 1:3 in the lower classes, moving to 1:6 in Waterskills 3 & 4.

Maximum of 6 in a class up to Improver level, maximum of 8 in advanced classes.

Affiliated with Swim England, we use 'Duckling', 'WaterSkills' and Distance badges.

Authorised Rookie Lifeguard Instructors, working to RLSS guidelines, following the RNLI Rookie Lifeguard Programme.

Rookie Lifesaving skills acquired in the higher advanced classes.

All badges earned throughout the term will be obtainable at the end of each term for a fee of £3.50.
Please see below for more details on what each class involves and what your child will be able to achieve.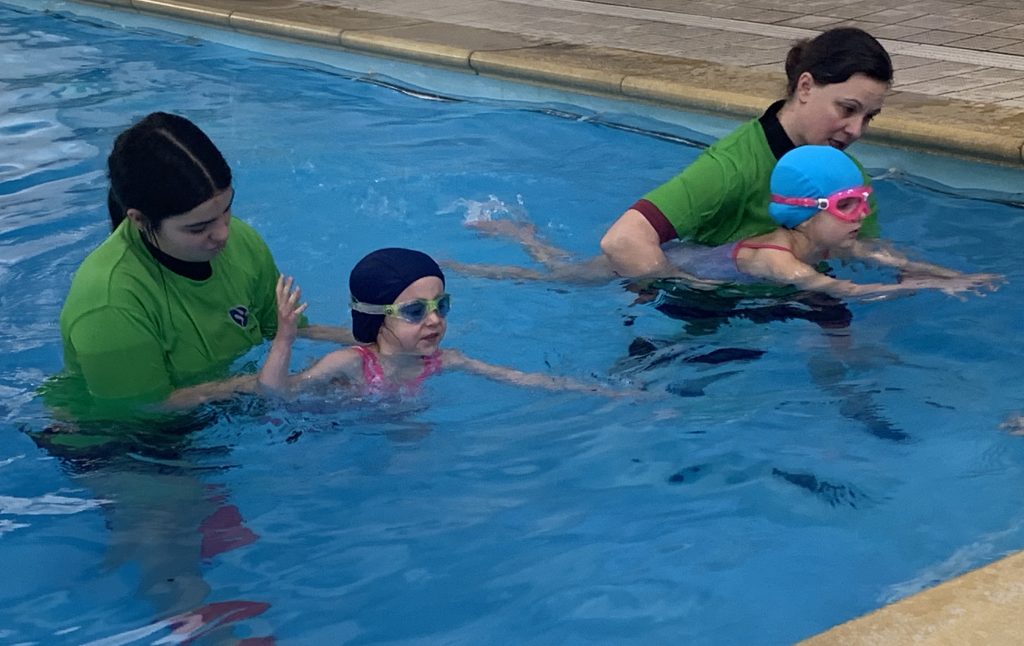 This class is for children who  are water 'happy' but may not yet be swimming. We take children from 3yrs old in this class.
In this class there is a qualified teacher and at least one assistant in the water. We have a maximum of 6 in the class.
Swim with GymCo has a fantastic pool platform for the little ones to stand on.  

Many children attending this class have come to us from other pre-school parent and toddler classes in the area.

Swim with GymCo comes highly recommended as a follow on course. 
DUCKLING badges are awarded in this class for:- 
Gaining water confidence.

Putting face in the water comfortably. 

Starting to stretch out and swim independently.
The pool is about 28-29 degrees so it is always good for swimmers to wear a tight fitting 'rash vest' whilst they are little. 
This class is for non-swimmers or those who can swim a couple of strokes but need to gain more confidence and experience in the water.
There is a teacher and an assistant in the water with a maximum of 6 in a class.
The children are working towards a PUFFIN badge:-
5m on their front, face in and blowing bubbles

5m on their back, well controlled kick

Push and Glides on Front, face in, no kicking, no 'jumping'

Push and Glide on Back, no kicking, straight body

Introduction to Breaststroke legs, on their back

General confidence in the water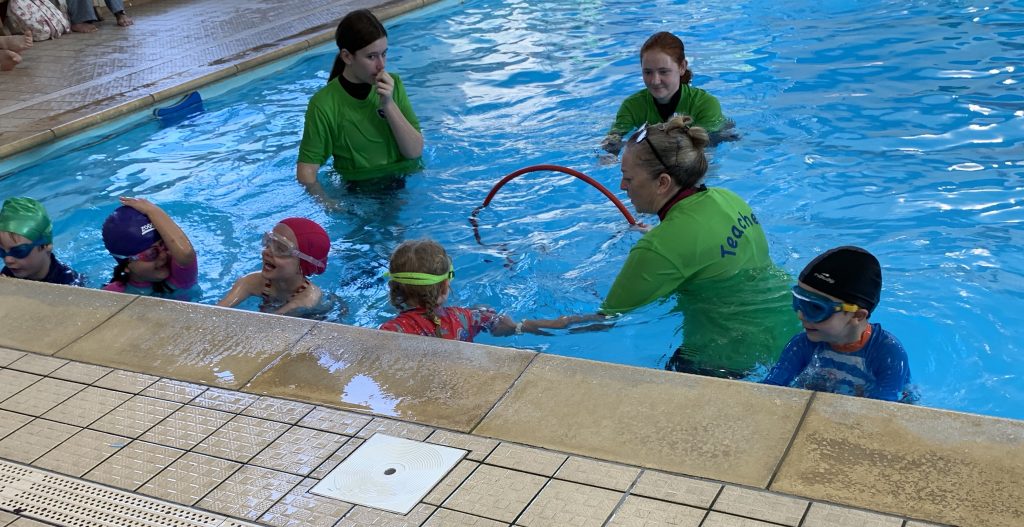 PARENT ASSISTED CHILD CLASSES
Our above lessons (Duckling and Puffin) unfortunately are not allowed to run as they would normally.  This is because of Covid-19 restrictions whereby Teachers and Assistants are not allowed in the water to teach.  As children in these levels require a high amount of support we have created a new class 'Parent Assisted Child' classes.  These allow the child to still have a lesson but a parent is in the water with them to support.  A teacher still takes these classes and will instruct the parent as well as the child to get the maximum progress out of the child.  The child works towards their level, either Duckling or Puffin.
Waterskills 1
The aim of this class is to work towards swimming 10m both on the front and back, with good arm use and better leg kicking action.
There is a teacher and an assistant in the water

Front crawl, with arms out of the water and breathing to the side

Backstroke, with arms out of the water and a good kick

Breaststroke leg kick on front

Dolphin wiggle, improving technique

Underwater practice

Floating skills and log rolls

Waterskills 1, 5m and 10m badges can be achieved.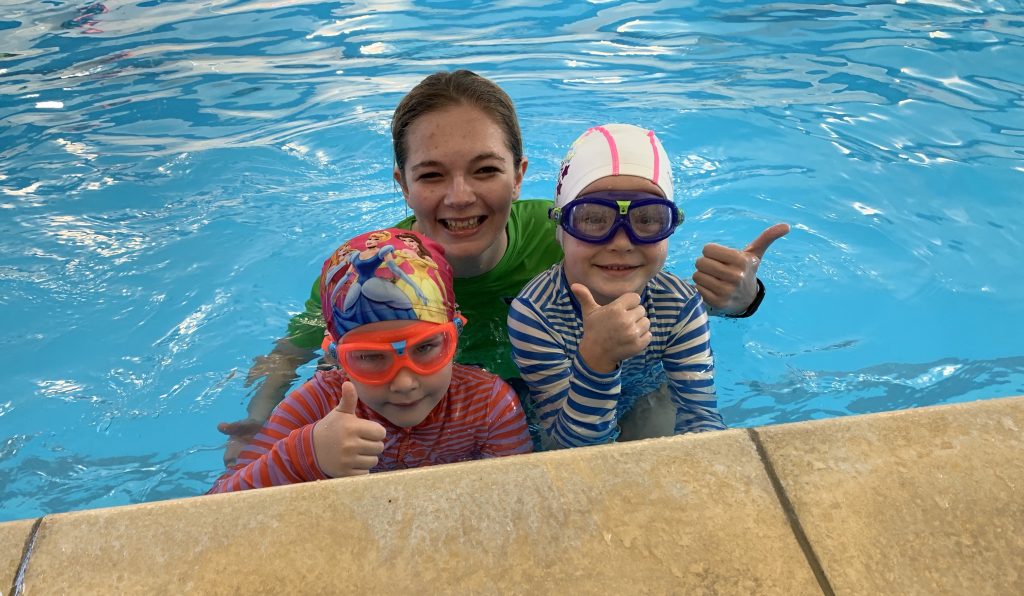 Waterskills 2
The aim of this class is working towards building up stamina to be able to swim two widths without stopping.
Fine tuning of front crawl – improved arm action and breathing technique

Fine tuning of backstroke – arms, kick and body position

Improving breaststroke arms and legs to enable a width to be swum

Increasing distance swum using dolphin wiggle

Underwater swimming practice using hoops and sinkers

Introduction to treading water and sculling

Waterskills 2 and 10m badges can be attained
Waterskills 3
The aim of this class is to keep improving the technique of the main strokes and increase efficiency through the water.
Swimmers will be confident enough for the teacher to be out of water

Front crawl and backstroke technique worked on

Breaststroke timing worked on

Dolphin wiggle distance extended

Introducing safety aspect in water by treading water

Sculling – feet first, head first

Confidence in underwater swimming

Waterskills 3 and 25m badges can be attained.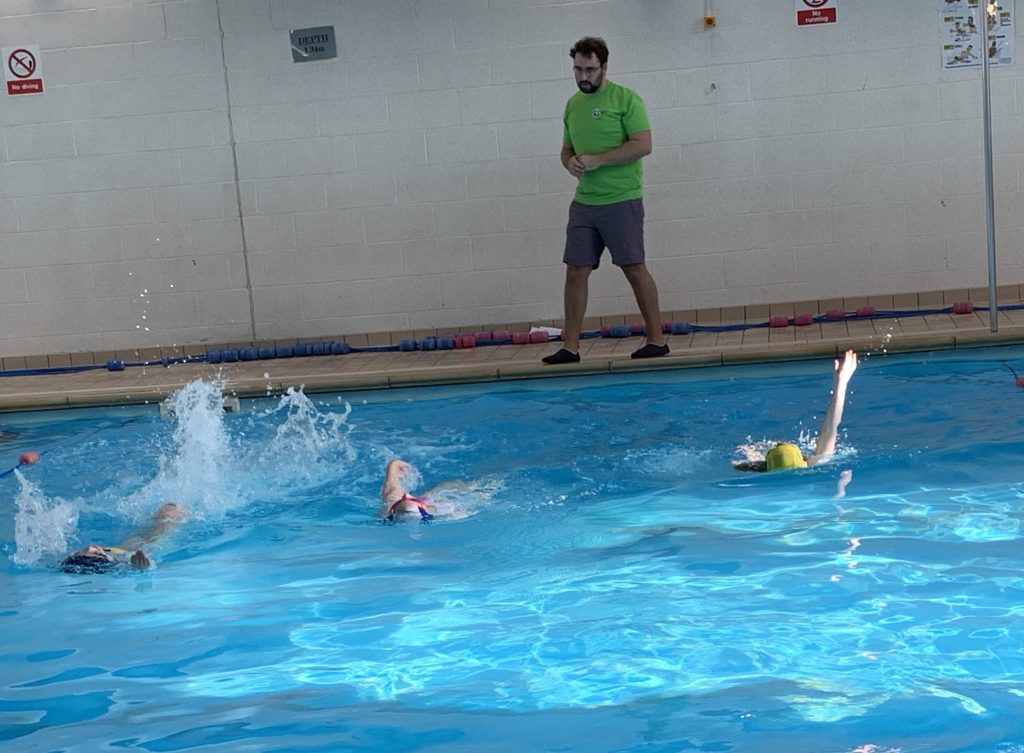 Waterskills 4
This is the final width class before moving to the advanced lane programme. The aim of the class is preparing swimmers for the step up to lengths.
Front crawl and back stroke technique worked on

Improve breaststroke legs, arms and timing

Introduction to butterfly arms (in conjunction with dolphin wiggle)

Introduction to finishes for strokes (eg one hand extended for backstroke)

Introduction to somersaults under water

Ability to swim several widths with touch turns for stamina

Continued learning of sculling, floating, treading water and more

Waterskills 4 and 25m badges are attained in this class
The Advanced classes are taught in the lane sessions either on a Monday (6pm) or Saturday (9am).
Waterskills 5

Waterskills 6

Bronze Challenge

Silver Challenge

Gold Challenge

Rookie Lifeguard Awards.
All strokes need to be of a high standard

Drills introduced for strength, stamina and technique improvement

Lifesaving skills introduced

Tumble turns and finishing technique improved

Treading water and underwater swimming skills worked on

Many badges are attainable at each level including Waterskills 5, Waterskills 6, Bronze challenge, Silver Challenge and Gold Challenge also various distance badges up to 800m.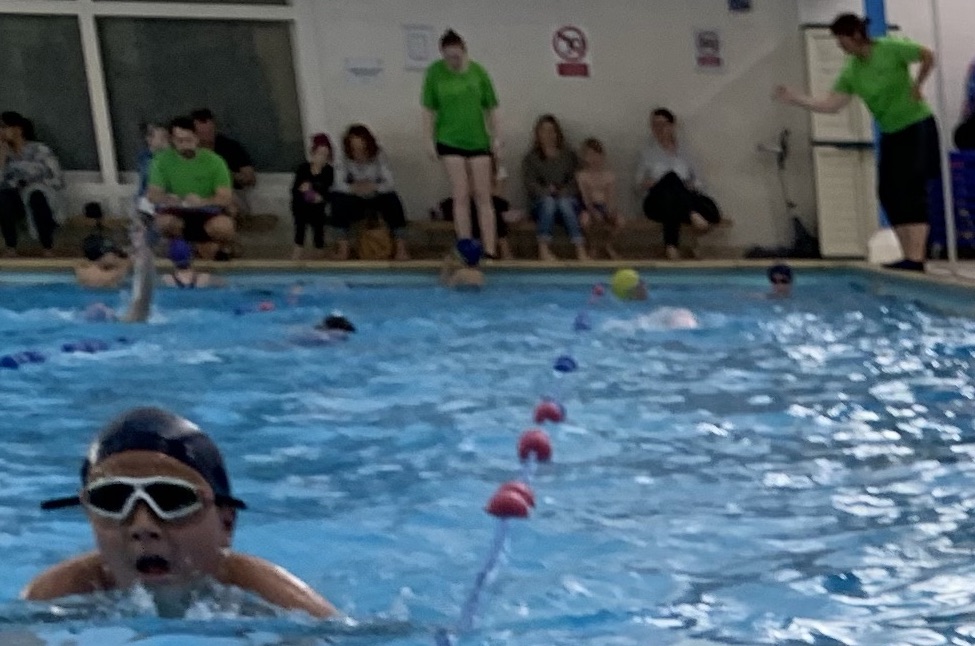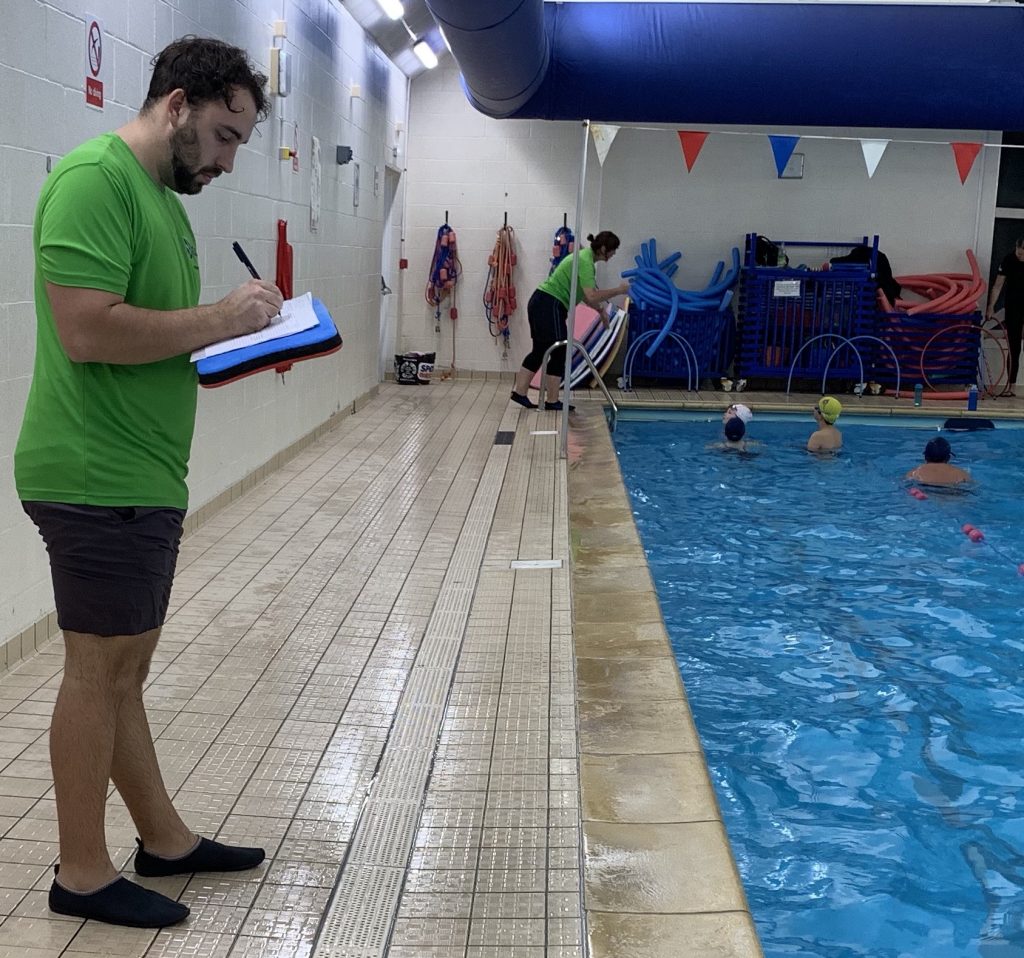 The Rookie Lifeguard Classes are run alongside our Bronze, Silver and Gold Challenge badges.
We have RLSS authorised Rookie lifeguard instructors who work towards giving the children experience and skills in order to gain their Rookie Lifeguard badges, Bronze 1,2 &3, Silver 1,2 &3 and on occasion we can take the children up to the Rookie Gold 1.